Dorcas response to crisis in Ukraine
A terrible conflict is raging in Ukraine. Millions of Ukrainians are seeking safety in the west of the country or in neighbouring countries, including Moldova and Romania. The great humanitarian disaster calls for immediate action. Follow our updates on the crisis in Ukraine and Dorcas' response.
Online platform 'Safe Ukraine' informs Ukrainians on how to act in dangerous situations
Dorcas Ukraine and Mission East launched a platform that supplies informational materials and videos to prepare Ukrainians for dangerous situations during the ongoing conflict. The platform contains information about how to prepare for evacuation, what to do in the event of a missile strike, how to behave in a hostile environment and how to prepare and act in the event of a nuclear disaster.
Jacqueline Talevska of Dorcas Ukraine describes: 'The idea for the platform arose after training many people who were responsible for a potential evacuation in the city of Zaporizhya. More than 15,000 people attended our trainings and 800,000 brochures were printed for distribution. We teamed up with Mission East to implement similar projects in Mykolaiv and Kharkiv, where we expanded to create video content on various topics. By March 2023, the videos had already reached an audience of over 4.5 million people.'
The main goal of the platform is to make people aware, help them feel safer and know how to react and act in different dangerous situations.
May 2023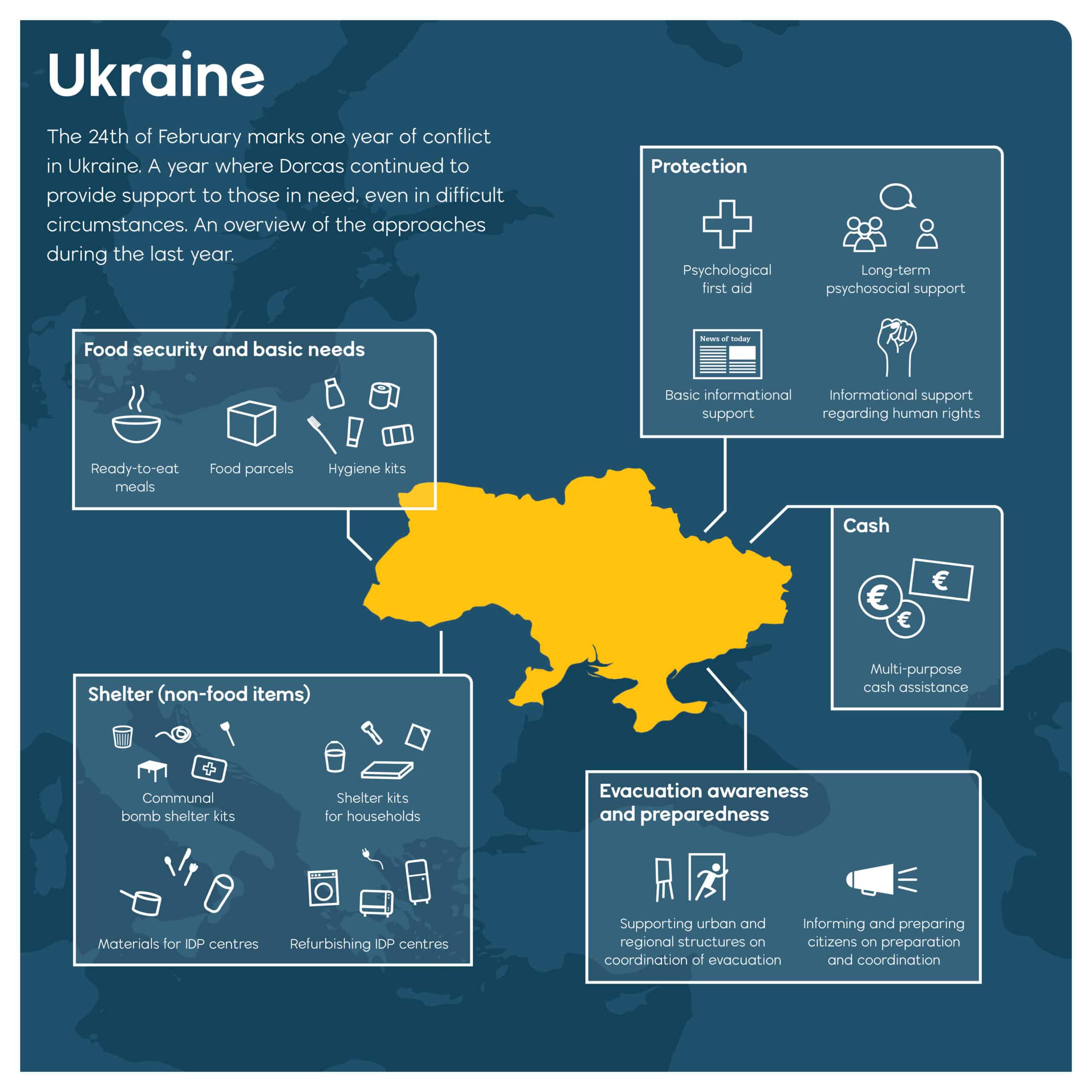 Distribution of food packages and hot meals close to contact line
Dorcas' local implementation partner, City Aid Center, packed and distributed 1,106 food packages with one-month food supply. They were distributed partly in Orikhiv and in Gulyaypole, both located close to the contact line in Zaporizhya Oblast, where people are suffering from shelling and seek for safety in basements. The other food packages were distributed to IDPs in Zaporizhya city to help them to get through the winter, as they are struggling to make ends meet due to inflation and increased food prices.
Dorcas' local implementation partner, Enjoying Life distributes 383 hot meals to IDPs in Kyiv. They are facing many difficulties with the large number of air alerts and electricity outages but are able to scale up operations to continue distribution.
January 2023
Food distribution along contact line area
Regular waves of attacks on energy infrastructure continue to cause destruction and leave millions of people across Ukraine with no electricity, disrupting water supply and heating systems, while temperatures have fallen below zero in most parts of the country. Around 9.3 million people require food and livelihood assistance.
Dorcas Ukraine supported their local partner with food distribution in Orikhiv city. Orikhiv city is located in the contact line area. Another partner of Dorcas Ukraine is preparing for food distributions in January with the support of Dorcas.
December 2022
Distribution of NFI kits to bomb shelters
In a UN OCHA funded Ukraine Humanitarian Fund (UHF) project, Dorcas has distributed 100 communal bomb shelter NFI kits to bomb shelters mostly under apartment buildings. Additionaly, 1.000 household bomb shelters kits were distributed to vulnerable in households living in Donetsk Oblast.
December 2022
Zaporizhya's evacuation information campaign empowers residents to take action
Dorcas discovered that some people in Zaporizhya did not plan to leave if the situation there escalated. It therefore talked with the city council about this potential crisis. The outcome was an evacuation information campaign developed by Dorcas, Wodan International and the city council. This campaign enables Zaporizhya's residents to act quickly and safely in emergency situations, including a possible nuclear disaster. And thankfully, with its training sessions and leaflets, the campaign is having a clear impact on residents' lives.
November 2022
Response on Zaporizhya's evacuation information campaign:
'When we gather people for training, they come with an attitude of "Well, what new things do you think you can tell me?". But during the training, people's opinions change, and at the end of the session, they thank us for inviting them and are grateful for what they learned.'
'An artillery strike destroyed a house near one of our training locations. People from the destroyed house came and thanked us for what they had learned at the training because that had helped them to remain calm during the attack and focus on what they had to do.'
'Women approach us after the trainings to express their gratitude because now they know what to take with them and how to choose a safe route for their children and loved ones.'
'People who've been through an evacuation approach us and say the advice we give is really effective, especially how to deal with checkpoints and documents.'
'Many people tell us that after our training, they find it easier to pull themselves together and take action.'
7 November 2022
Situation in Zaporizhya
The situation in Zaporizhya has markedly deteriorated. First, Russia annexed the part of the region it controls on 30 September, and since 10 October, there have been waves of missile and drone strikes.
Levels of panic among the civilian population are understandably high and a new wave of IDPs has started arriving from the Zaporizhya region in Western Ukraine. Dorcas is talking with the regional authorities in Transcarpathia about how this new influx of people can be accommodated and the humanitarian aid they require coordinated. There is a particularly high demand for mental health and psychosocial support and a growing need for multi-purpose cash assistance and temporary and medium-term shelter.
Regrettably, these latest developments have led to Dorcas deciding to pull out its remaining staff in Zaporizhya, as their safety could no longer be sufficiently guaranteed. Together with their families, they have been relocated to the Transcarpathia region in West Ukraine, where Dorcas works to support IDPs. Given the highly volatile situation in Ukraine, appropriate security management for all our staff there is a top priority. Dorcas will also ensure that adequate emotional and psychosocial support is available to all team members, especially for those who had to relocate.
Dorcas continues to carefully monitor the situation in Eastern Ukraine and, in consultation with our donors and partners, we adapt our work accordingly.
11 October 2022
Missile strikes do not leave Dorcas' work in Zaporizhya unscathed
Innocent civilians have died as a result of recent missile strikes in South and East Ukraine. And the work of Dorcas and its partners there has not been left unscathed.
Cars wait in a convoy on the outskirts of the city of Zaporizhya for permission to pass through the only crossover point to the occupied region. At any given time, there could be as many as 300 cars waiting for up to 30 days to make the crossing. Those waiting include families, sometimes with children, on their way to support older family members in the occupied area. Others in the queue simply want to bring help to their fellow Ukrainians in need. For several months, a Dorcas partner has provided people in this convoy with warm meals and hot drinks.
On 30 September, a Russian missile strike hit the convoy:  civilians were killed and many injured. The nearest military target was at least 20 kilometres away. Two of those killed were volunteers from our partner organisation who were busy handing out hot drinks. Despite the attack, our partner has decided to press ahead with this project and Dorcas will continue to support them.
The attack sadly illustrates the dilemmas Dorcas and its partners face in deciding how we can help those in need without endangering the lives of our staff and volunteers.
3 October 2022
Six months into the Ukrainian crisis: what had Dorcas achieved?
The war in Ukraine continues to drag on. Since 24 February 2022, one-third of Ukrainians have fled their homes and there are currently about 7.7 million IDPs in the country. What has Dorcas done to meet their needs?
Dorcas has met basic needs for shelter, food and non-food items. Temporary shelters for IDPs have been set up in Transcarpathia. And over 10,000 people have been reached with food and non-food items in the Transcarpathia, Zaporizhya and Donetsk regions since March. These items are gratefully accepted but receiving such assistance can undermine people's sense of dignity and their wish to take responsibility for meeting their own needs. Dorcas therefore provides multi-purpose cash assistance too. More than 700 beneficiaries have been reached since April with such assistance that provides for 3 months of minimum expenditure.
In a war-torn country, people also struggle to cope both psychologically and emotionally. That is why Dorcas has a strong focus on MHPSS and so far it has reached more than 2000 people with psychosocial care. Dorcas is also very aware of the risks fleeing people face. More than 3000 people have therefore been informed about their rights and over 2500 people about the risks of gender-based violence during displacement.
Some people who have not yet fled their homes might still need to evacuate, especially in areas close to the current contact lines like the city of Zaporizhya. Therefore in cooperation with the city council, Dorcas is realising an evacuation preparedness and awareness campaign. So far, 22 trainers have been instructed on evacuation awareness and preparedness. These trainers have trained over 1,000 others and the team is in the process of disseminating 800,000 flyers and video materials, which have also made the local television news stations.
Heleen Berends, Humanitarian Programme Manager in Ukraine, is proud of what Dorcas has achieved so far, but she is also clear about what still needs to be done. 'Over the past six months, we have provided humanitarian relief in East and West Ukraine within a highly dynamic situation. I'm incredibly proud of both the Dorcas team and our partner organisations. Together we've helped tens of thousands of Ukrainians to survive. However, the war continues unabated and that means our work is far from finished. Besides providing emergency relief, we will also work hard in the coming period on long-term interventions. These involve bringing together companies, local governments and aid agencies to create job opportunities, increase access to mental healthcare and improve the long-term reception of internally displaced people at the municipal level.'
5 September 2022
Dorcas Ukraine contributes to evacuation information for Zaporizhya's residents
Anatoliy Kurtev, secretary of the city council in Zaporizhya, has announced a new information campaign for Zaporizhya's residents about the procedure for emergency situations. Dorcas is one of the partners in this new project.
Dorcas, together with Wodan International, proposed an information campaign to prepare the local population for evacuation should the need to evacuate arise. The aim of the campaign is to enable Zaporizhya's residents to act quickly and safely in emergency situations. Particular attention will be paid to vulnerable groups. As part of the campaign, instructions will be prepared that explain each phase of an evacuation, the safe routes to be followed and what needs to be in the emergency suitcase. Dorcas Ukraine will also provide hygiene kits and assist in the setting up of shelters.
21 July 2022
Emergency aid for Ukranian refugees in Romania shifts to long-term assistance
The flow of refugees from Ukraine to Romania seems to be decreasing, which has consequences for the assistance required. Dorcas Romania will now focus on long-term support for Ukrainian refugees, especially their psychosocial well-being and mental health.
The initial flow of refugees often aimed to travel further to relatives or acquaintances in Western Europe. Now those crossing the border have nowhere else to go and remain in Romania. This new situation requires a different approach to emergency aid.
14 July 2022
Special information portal for IDPs
Although a limited number of displaced Ukrainians are returning to their homes, the various regions in the country still host 7.1 million IDPs. 1.8 million of them are refugees in Western Ukraine. Dorcas Ukraine works in Transcarpathia (Western Ukraine), Zaporizhya and along the contact line in the Donetsk region (Eastern Ukraine). In Transcarpathia, Dorcas supports many IDPs and provides them with the necessary assistance. We have developed an information portal to reach more IDPs in the various regions. This provides specific information on topics such as shelter and placement, medical services and registration, documents and government services. Thanks to this information, IDPs know where to go in these challenging times.
16 May 2022
Dorcas operations: Developments in the Donbas
The situation in the Donbas is critical and local governors are asking citizens to leave the area before it is too late. However, not everyone can or wants to leave. Dorcas is therefore distributing food and drinking water along the contact line in Donetsk region. We specifically target the older persons and people with disability who have stayed behind. This population was previously part of Dorcas' Community Safety Net programmes. The individuals concerned are primarily staying in bomb shelters or, if they are immobile, at their homes. Away from the contact line, we are busy preparing more widespread humanitarian help.
15 April 2022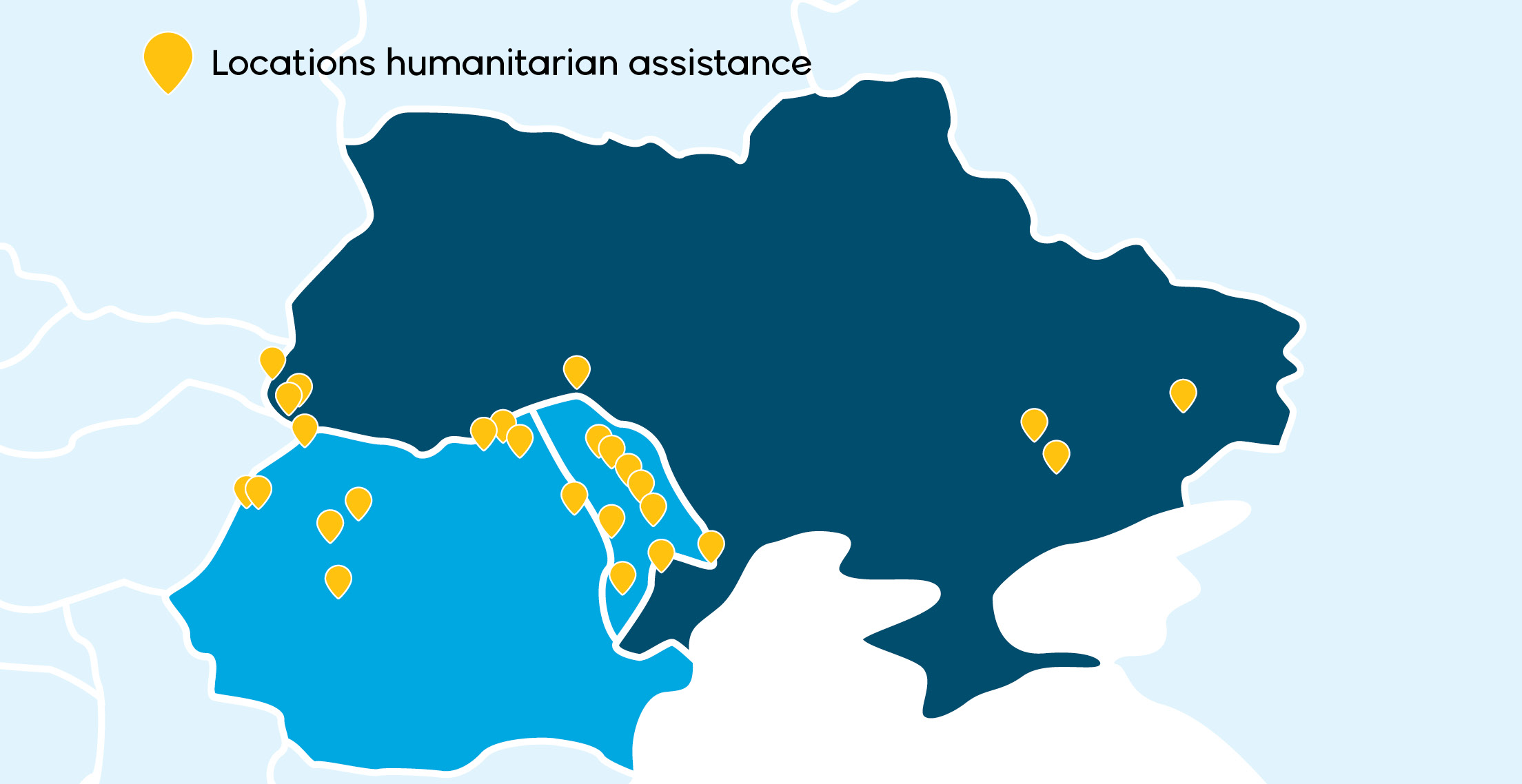 Assessment of the ultra-vulnerable
Dorcas is preparing an assessment of the ultra-vulnerable, such as the older people, chronically ill, people with disabilities and Roma. The survey will focus on understanding their needs, obstacles they experience in accessing support, and how they can be targeted in the humanitarian response.
14 April 2022
Dorcas operations in Transcarpathia
Many IDPs stay in Transcarpathia, because men cannot leave the country. The registered number of IDPs is less than the actual number because not all IDPs register with social services. For example, if men register, they are referred to the army recruitment office. Possibilities to distribute cash to 2500 IDPs are being explored as that would also allow non-registered IDPs to be reached.
Dorcas provides psychosocial support via social workers and psychologists to IDPs in Transcarpathia. The current focus is one-to-one psychological first aid. In collaboration with its partners, Dorcas is setting up group-based Psycho-Social Support programmes for longer periods of time. These will enable women and children to process traumatic events in a structured way. Group-based MHPSS will be combined with one-to-one longer-term counselling and also case management for those who need specialist care. Dorcas will use 'cash for protection' to ensure that individuals referred to other types of care can access this and receive tailored help.
Dorcas provides multi-purpose cash assistance to IDPs and host families in Transcarpathia. This enables people affected by the conflict to flexibly meet their immediate basic needs with dignity. It also reduces the risk of them resorting to negative coping mechanisms.
14 April 2022
Update on crisis response Dorcas in Ukraine
Thanks to its longstanding operational presence in Ukraine, Dorcas could initiate its humanitarian response to the populations of Transcarpathia and Zaporizhya immediately after the war started. The focus in Transcarpathia is on IDPs, while in Zaporizhya our partner buys basic goods locally to support those in need. Meanwhile, in Eastern Ukraine, the situation is rapidly deteriorating. Dorcas is doing all it can to strengthen its humanitarian response in the Donbas.
Distribution of food and non-food items continues in Transcarpathia. Many IDPs stay in this region, as men cannot leave the country. The actual number of IDPs in the region is much higher than the official figures, because not all IDPs register themselves to avoid for male IDPs to be referred to the army recruitment office.
Social workers and psychologists are working with IDPs to provide them with mental health and psychosocial support.
Possibilities for cash distribution to 2,500 IDPs are being explored. This will enable us to provide more support to unregistered IDPs.
Zaporizhya is a new targeted area.  So far Dorcas' local partner in this area is still able to purchase goods locally and provide support for those in need.
The situation in Donbas region, where the contact line is, is critical. Bombing is increasing and people are being encouraged to leave the area. For the people who cannot or don't want to leave, distribution of humanitarian aid goods is being prepared.
7 April 2022
Vulnerable people in the war
In the past weeks, an estimated 12.65 million people have been affected in the areas hardest hit by the war within Ukraine. About 3 million refugees have fled the country and another 1.85 million people are internally displaced. Many more remain trapped in areas of escalating conflict where essential services are disrupted, and basic needs such as food, water and medicines can scarcely be met. In the face of this human catastrophe, Dorcas seeks to identify the most vulnerable groups and provide them with shelter, food, medical aid and other basic care. These include persons with disabilities, older people and people at risk of human trafficking.
4 April 2022
Scaling up operations in Western Ukraine
Dorcas Ukraine operates from the Transcarpathia region in Western Ukraine. The funds Dorcas will receive from the Dutch government can be used to help many people. 'However, we need to prepare for that by quickly scaling up the organisation and expanding our staff and tools,' says Heleen Berends. She is in Transcarpathia to help Dorcas Ukraine with the crisis response, and she also has a coordinating role in the Dutch Relief Alliance.
Many IDPs have come to this region of Western Ukraine. Dorcas' initial focus was distributing food and non-food items to shelters, such as schools, churches and sports halls. However, it soon became clear that other items were also needed, such as kitchen utensils and washing machines. 'Every shelter is different and has its own specific needs, so you can't adopt a one size fits all approach. Providing what each shelter needs takes a lot of time and effort', states Heleen.
28 March 2022
Dorcas Romania's targeted response
As soon as the full-scale war in Ukraine started, Dorcas Romania set up a humanitarian aid project for refugees. 'We knew that many Ukrainians who feared for their lives would come to neighbouring countries', says country director Attila Daray. 'Right now, Romania has about 550,000 refugees, the second-largest number after Poland. This is a completely new situation. We've never had a refugee crisis like this before.'
During the first days of the war, many organisations and churches went to the borders with food and other products. Dorcas has a large network in Romania, and right from the start, it focussed on a targeted response such as mobilising partners and volunteers to help provide refugee shelters.
25 March 2022
Dorcas Moldova's local network makes the difference
Dorcas Moldova is used to supporting marginalised groups such as older people and children in its projects, and now it suddenly has to deal with a war next door. Annegreet Ottow from the Dorcas International Office is in Moldova to support and advise the Dorcas team in the Ukrainian crisis response, provide training and visit partners. 'Providing emergency aid is completely new for the team here', she says. Dorcas also participates in the larger network of humanitarian organisations in Moldova, including thematic working groups organised within a UN context.
During the first few days after the invasion of Ukraine, things were quite chaotic at the border. Many Moldovans spontaneously went there to bring food and offer shelter in their own homes or in schools and churches.
24 March 2022
Dorcas provides, via Dutch Relief Alliance, immediate humanitarian relief in Ukraine
The Dutch Relief Alliance (DRA) initiated an Acute Joint Response in Ukraine to provide immediate humanitarian relief to victims of the conflict and support communities that host displaced people. The Joint Response, led by Dorcas in cooperation with Cordaid and Save the Children, works with local partners in Ukraine to deliver urgent support such as food parcels, nonfood items for shelters, clean drinking water, hygiene kits to those affected, focusing in particular on the areas in and around Poltava, Ternopil, Kyiv, Ivano-Frankivsk, Transcarpathia and Zaporizhya.
In the next 6 months, the DRA will improve shelters for displaced people by providing mattresses, blankets and cooking supplies. The DRA offers psychosocial support and mental healthcare to help victims deal with stress and trauma resulting from the conflict. Support to marginalised people, such as people with a disability, older persons, pregnant women, children and vulnerable families is central to the response.
15 March 2022
Dorcas provides emergency relief in Transcarpathia (Ukraine)
Transcarpathia oblast in Ukraine is receiving thousands of internally displaced persons (IDPs) who have fled westwards. The situation is extremely dynamic, so the number of affected people in Transcarpathia varies daily.
In Uzhorod, Mukacheve and the surroundings areas Dorcas has started to assist and support 2,071 people, about 50% of them children. People on the move receive ready-to-eat food kits. In soup kitchens in collective shelters and guest families, where refugees are staying for some time, food parcels are distributed. Non-food items distributed among these people include sleeping mats, insulation mats, sleeping bags, hygiene kits and menstrual hygiene kits.
All people on the move are considered vulnerable at this stage, so the most common targeting method is blanket distribution. The focus is on vulnerable groups such as children, older people and people living with disabilities. Vulnerable host community members and households hosting IDPs are also eligible for assistance.
More than 2 million Ukrainians have fled to neighbouring countries in less than two weeks. The rapid and massive influx of displaced people in Western Ukraine and refugees to neighbouring countries risks overwhelming national response capacities.
9 March 2022
Initial response Ukraine crisis in Romania, Moldova and Ukraine
Romania:
Dorcas Romania will assist and support approximately 20,000 refugees coming to Romania from Ukraine. To reach this number of refugees, Dorcas Romania and its partners are aligning their efforts with Romanian society initiatives. Special attention will go to the most vulnerable refugees who are crossing the Romanian border: people in need of medical assistance, people with a disability, older persons (especially women), pregnant women and children. Additionally, Dorcas Romania also provides support to people who are travelling alone and people who do not have any connections or someone to support them in Romania. Dorcas Romania provides support with food packages for people transiting, hygiene kits, food support to organisations, churches and shelters hosting refugees, menstrual hygiene kits, shelter for refugees and information materials for refugees. Additionally, psychosocial support is provided, and integration support is offered for those needing to stay for a longer period – more than six months.
Dorcas Romania partners with Asociația Pentru Tine Botoșani, Community Development Association Taina Milei and the Lord's Army, and it works closely with local authorities.
Moldova:
The number of people entering Moldova from Ukraine and seeking shelter is continuously growing and, besides temporary reception centres, many are hosted in local communities. Churches and individual families are ready to host refugees, but many of them cannot afford to provide additional food, heating, bedding, and other necessary items. Dorcas Moldova's response starts with supporting 5,250 people. These people are refugees in shelters (with accommodation, food and essential non-food items and mental first aid), host families, up to 10 local churches and a temporary shelter in Chisinau. Refugees at the border will also be supported with information and kits that include food for immediate consumption and hygiene items. Special attention will be paid to older persons and children. Care for children also gives their caretakers the opportunity to plan for their further journey. Many local organisations, churches and individuals are offering help. However, their means are limited, and Dorcas steps in to make these means available and provide the necessary capacity building and technical support.
The project will be implemented around the border crossing points of Otaci, Ocnita, Telenesti and Chishinau, with possibilities to scale up to Basarabeasca and Palanca.
Ukraine:
Dorcas Ukraine's response starts with supporting 11,400 IDPs, host population and people left behind in conflict-affected areas. Dorcas Ukraine and their local partners will focus with their response on assisting and supporting people located in Transcarpathia, where IDPs have fled to, and Zaporizhya, where some people are unable or unwilling to flee. The response is focussed on people with disabilities, older people, pregnant women or lactating mothers, female-headed households and children who have been separated from their family or child-headed households.
Dorcas Ukraine provides support on:
Food security: Distribution of ready-to-eat food kits and food parcels for refugees in shelters with cooking facilities, households hosting refugees, vulnerable households in the host community and households left behind in conflict-affected areas
Non-food items: Provision of matrasses, sleeping bags, cooking equipment, hygiene, and menstrual hygiene kits
MHPSS through counselling, addressing gender-based violence and raising awareness on human trafficking
Information: Informing IDPs of their rights and entitlements
5 March 2022
Dorcas part of Joint Response Ukraine
The Dutch Relief Alliance is a coalition of 14 Dutch aid and humanitarian organisations in partnership with the Netherlands Ministry of Foreign Affairs. Dorcas is one of the partners within this coalition. The Dutch Relief Alliance has approved a Joint Response for Ukraine. The Joint Response provides immediate humanitarian relief targeting nearly 25.000 people in Ukraine displaced by the conflict, hosting displaced people, and still in conflict areas. Together with Save the Children and Cordaid, Dorcas will provide emergency relief in sectors such as food security, shelter and non-food items, protection, MHPSS, WASH and health.
4 March 2022
Number of refugees continue to grow
The number of Ukrainian people fleeing from their homes continues to grow by the hour. An average of 100,000 people per day have crossed international borders since 24 February. By 1 March, a total of 677,000 people had crossed the border towards Poland, Hungary, Romania, Moldova, Slovakia and others countries, according to UNHCR. In Ukraine, more than 100,000 people have been internally displaced so far. However, the actual numbers are higher, as people keep moving out of the major cities.
2 March 2022
Big challenges due to crisis
In Western Ukraine, there are a growing number of problems. The biggest challenge is providing shelter for the refugees. In addition, there are concerns that the electricity supply will fail, causing a high demand for diesel generators. Also, little medical care is available, even though the need is there. Food is available, but only to a limited extent.
In Moldova and Romania, plans to help refugees at the border with food and non-food items are progressing steadily. In all bordering countries, Dorcas also pays special attention to care for older persons and disabled and the prevention of trafficking.
Maintaining communication possibilities is crucial too. Dorcas was able to send satellite phones to the Ukrainian border. With the 4G equipment, a user can call or have internet access via any transmission tower in a range of 30 kilometres. The phones are destined for Dorcas Country Offices in Ukraine and Moldova and will be transported later this week.
The situation in Ukraine also affects other countries where Dorcas works, especially in Northern Africa and the Middle East, because many economies are heavily dependent on wheat imports from Russia and Ukraine. For instance, 80% of Lebanon's wheat imports come from Ukraine. Soaring global food prices and ongoing economic crises have already left many people in Lebanon in hunger and poverty. As bread is the only affordable thing on the shelves for the most disadvantaged residents in Lebanon, the potential consequences will be felt mainly by Lebanon's most vulnerable communities. In the same way, Egypt relies on Russia and Ukraine for 85% of its wheat imports. Yemen and Sudan are at great risk from a surge in prices and a spike in demand too.
2 March 2022
Hundred thousands of people on the move and in urgent need of support
People from all over Ukraine are fleeing towards the western regions and entering Romania or Moldova. UNCHR states that so far, 160,000 people have been internally displaced, and more than 368,000 people have fled to neighbouring countries. It is estimated that 5 million people could flee the country. Dorcas is especially concerned about the marginalised who cannot flee due to extreme poverty, age or disability and those at risk of abuse during their flight.
Dorcas Ukraine is in close contact with the local government, which currently oversees all humanitarian aid. There are conversations about Dorcas taking over the coordination of several relief centres. We are also investigating the possibilities to arrange the import of goods from Romania. In the short term, Dorcas can provide shelter, food, beds, blankets, and mental health and psychosocial support to internally displaced people in Western Ukraine and refugees in Moldova and Romania. The Dorcas team from Eastern Ukraine met in Oezjhorod. They are developing an emergency response plan, and over the weekend, they distributed the first 500 food parcels.
Damage to civilian infrastructure has left hundreds of thousands of people without electricity, gas or water. Hundreds of homes and public buildings have been damaged or destroyed, while bridges and roads damaged by shelling have left some communities cut off.
Dorcas staff in Oezjhorod (Zakarpattia oblast, bordering Slovakia), which lies outside the war zone, report that basic food items are not in stock and that food prices have increased dramatically over the past few days. In Eastern Ukraine, there are reports of food shortages in Kramatorsk (Donetsk oblast) because most supplies there came from Kharkiv, which is now effectively cut off.
Ferenc Katko, Country Director Ukraine: 'On behalf of the people in Ukraine and on behalf of my Dorcas colleagues in Ukraine, I would like to thank you for your donation. We really appreciate your involvement and your contribution to humanitarian aid.'
Long lines of refugees seek safety in Moldova. Volunteers help those who cross the border by providing hot meals, hygiene materials, clothing and transportation. Regrettably, many refugees do not feel safe in Moldova because it is too close to the war zone.
The queues at the border with Romania are kilometres long. People spend the night in their cars waiting to cross. Romanians welcome the refugees and provide some basic initial needs. Dorcas is helping local efforts to establish refugee camps.
28 February 2022
Fighting continues, Dorcas relief preparations in full swing
The fighting in Ukraine rages fiercely. Russia is attacking Ukraine from the north, east and south. Several cities have been conquered by the Russian army. The battle for Kiev is ongoing. According to the Ukrainian authorities, hundreds of people have already been killed. Bakeries are closed, so there is no bread and gas stations are closing as well. Supermarkets are still open, but prices are skyrocketing. Dorcas is exploring possibilities of getting food, hygiene materials and other basic needs into the country from Romania and Moldova.
The number of refugees is slowly increasing. Shelters in Transcarpathia (western Ukraine) are all full, so it's unclear where all these people will spend the night. Dorcas is preparing distributions of food, hygiene materials, blankets and other materials. The first 500 food parcels will be distributed this weekend.
So far, no large numbers of refugees are arriving in Romania, but many are expected. Only women, children and men over the age of 60 are allowed to leave Ukraine. They often cross the border on foot and are in need of support.
In Moldova, preparations to host refugees are being made by aid organisations, government agencies and churches. Among others: accommodations are being made available, there are lists of families who are willing to receive refugees, and so on.
Both in Romania and Moldova, local Dorcas teams are preparing to provide emergency relief in the form of shelter, food and other basic needs.
26 February 2022
Dorcas has started preparations for emergency relief in Ukraine
Dorcas started preparing emergency relief in Ukraine, Moldova and Romania, in response to the crisis in Ukraine. We are partnering with the Dutch Christian Relief Cluster as well as our local partners and extended network in these countries.
Since the invasion of Ukraine, hundreds of thousands of people have fled to Western Ukraine and neighbouring countries. However, due to poverty or old age, many people have no other option than to stay in this life-threatening situation. Dorcas, together with its partners, will provide emergency aid in the form of shelter, food, water, blankets, beds and trauma care to IDPs (Internally Displaced Persons) in Ukraine and refugees in Moldova and Romania.
Dorcas Ukraine Country Director Ferenc Katko: 'There are long queues in front of supermarkets and at petrol stations. People are also trying to withdraw money and exchange it for euros and dollars, because our own currency is devaluing at rapid pace. There are traffic jams on all roads. In the west of the country, host families, schools, churches and restaurants offer places for refugees to spend the night. Many others sleep in their cars or on the street, in the cold.'
Dorcas, as well as other members of the Christian Relief Cluster, have been working in Ukraine, Moldova and Romania for decades. This gives us the network and means to act quickly. At the moment, we are mapping out the need in Ukraine so that aid will be provided in the right places. We are making a similar inventory in neighbouring countries, including Moldova and Romania, where we can offer shelter for Ukrainian refugees.
25 February 2022
Dorcas response to crisis in Ukraine
Dorcas is deeply concerned about the unfolding crisis in Ukraine. CEO Leo Visser states: "Russia's invasion of Ukraine is a terrible fact today. It is one of those moments in history that we will remember for a long time. We fervently hoped and prayed that it would not come to this. Many people will experience the consequences of this terrible war. As Dorcas we will do everything possible to support them."
In the weeks and days before this invasion, Dorcas already started preparing an aid operation in case people would be forced to flee their homes from the violence of war. Our local colleagues are monitoring the situation in Ukraine but also in Moldova and other surrounding countries, where many IDPs and refugees are expected to arrive, and we are preparing a humanitarian response together with our local and international partners.
Dorcas Ukraine country director Ferenc Katko: "This is a nightmare. Everything is uncertain now."
Dorcas has been active in Ukraine for 25 years with programmes for people in extreme poverty and for people who previously had to flee the violence in the Donbas region of Ukraine.
24 February 2022