How we rebuild and transform lives
Around the globe, poverty, exclusion and crisis marginalise people - from poor health to food insecurity and lack of education to inadequate living standards, income deprivation, disempowerment and threat of violence.
For this reason, the solutions can only be found in a multi-dimensional approach to change.
At Dorcas, we work directly with vulnerable individuals, the communities around them and wider societal structures to ensure our programmes are relevant and have sustainable change.
Our Theory of Change in 2 minutes
Intervention Areas
This way-of-working underpins our four intervention areas.
Enterprising People - Our life skills and entrepreneurial programmes give individuals the tools to drive the development process themselves. We help families kick start income-generating activities in their home or community and train young people in vital skills such as financial literacy and launching their own business.
Early Recovery and Resilient Livelihoods - To prepare people in remote communities for natural disaster or periods of instability, we offer a variety of agricultural programmes and Self Help Groups (SHGs). We also drive access to WASH through safe water and sanitation projects, hygiene education and awareness-raising.
Relief - Our cash and protection programmes deliver vital humanitarian support in response to major crises and conflict. We work tirelessly to gain the support of government institutions and partner organisations to ensure that emergency assistance reaches those who need it most.
Community Based Care and Protection - Dorcas Community Centres, country staff and local ambassadors promote gender equality and inclusion of minority groups and fight abuse, exploitation and human trafficking. Our advocacy efforts hold governments to account.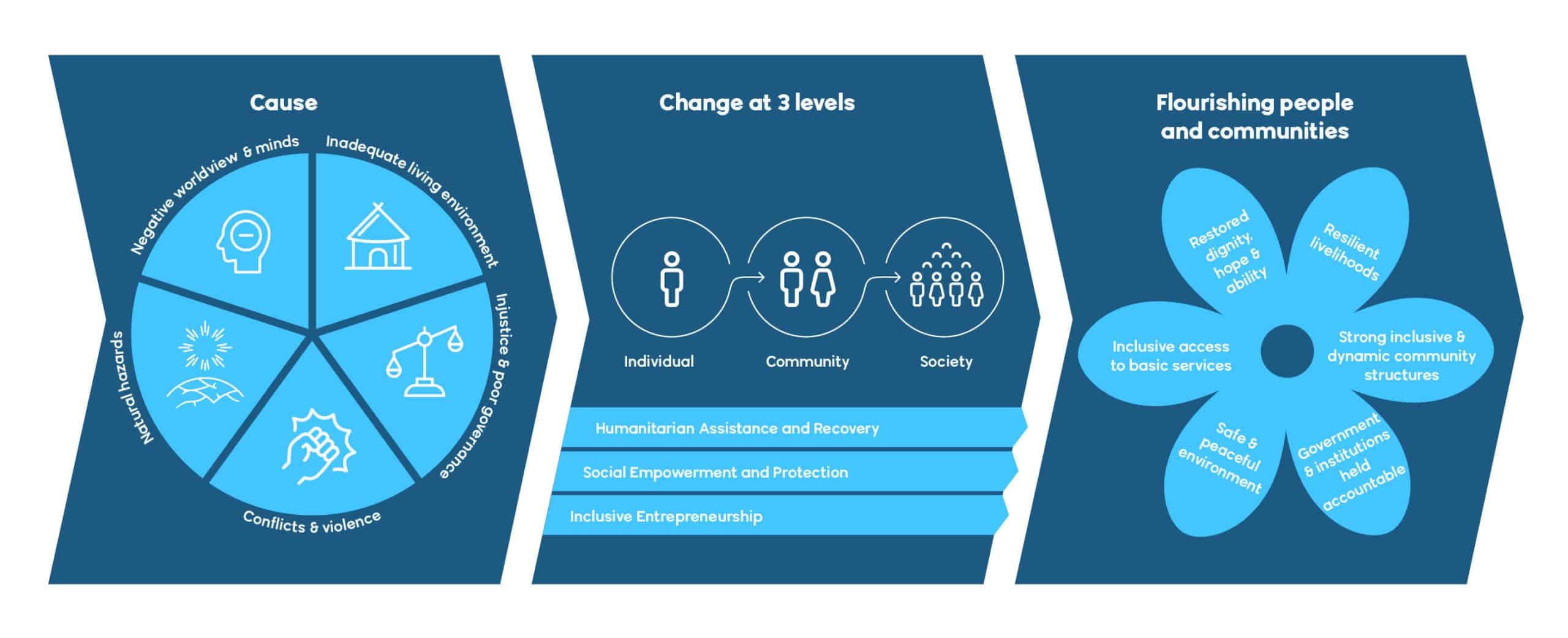 Our Lens
Everyone has a unique way of observing the world around us. And every year, we must decide where to focus our attention.
We vow to identify and protect marginalised people - whoever they may be within our countries of work.
This standpoint is framed by biblical values and closely linked with the UN's Sustainable Development Goals.
Cross Cutting Themes
Dorcas intersects five areas with the main project without losing focus of the main goal.
Environmental change is a very urgent matter that visibly affects the communities we work in. Within Dorcas interventions, actions are continuously taken to adjust to climate change, counter environmental degradation, minimise risk from disasters and even improve the (enabling) environment. Read more.
Dorcas' commitment to promoting gender equality has been deeply embedded in our way of working for many years. We want to contribute to increased gender equality by ending discrimination against women and girls, eliminating forms of violence and harmful practices, restoring self-esteem and creating equal access to services and opportunities for economic participation. Read more on Read more.
Dorcas is a Christian organisation with biblical values. Faith@Work expresses our desire to work God's way and that His principles of work will be applied in all approaches and intervention areas of our way of working. Read more.
Dorcas wants to support peacebuilding processes in (post) conflict communities and mitigate the risk of relapse into conflict by addressing root causes of conflict and restoring broken relationships by fostering reconciliation. Read more.
Social inclusion is an essential component of Dorcas work. We want to address and reverse the social exclusion and stigmatisation of individuals or groups in society, to enhance equality and social protection both in our programs, as well as in society. Read more.
Quality & Added Value
We monitor and evaluate every one of our programmes to continuously improve the quality and relevance of our work.
Prior to the roll out of any intervention we first undertake extensive market research to identify community needs and priorities. The findings dictate our strategic focus for the implementation of future programmes.
We take a systematic approach - one that measures our success against the highest global standards. Dorcas adheres to the nine commitments of the Core Humanitarian Standard on Quality and Accountability (CHS) to ensure the effectiveness of everything we do.
Sustainable Development Goals
All Dorcas activities contribute to the alleviation of poverty and food insecurity, and to building resilient livelihoods. Inclusion and the protection of marginalised groups is key to what we do - both in our development work and relief activities.
Under Community Based Care and Protection, we develop and strengthen safety nets and social protection networks -  improving the well being of vulnerable elderly people and families. Disadvantaged children gain access to education and relevant skills training.
In our Early Recovery and Resilient Livelihoods approach we pay special attention to improved food security and nutrition, via projects that introduce sustainable production systems and adapt to the changing needs of climate change. WASH interventions are community-based and promote entrepreneurial solutions.
Our Enterprising People and Communities approach supports productive self-employment and work opportunities for all, in particular for disadvantaged groups. We also promote access to labour rights and other sustainable resources. Wherever relevant, we build and participate in multi-stakeholder and public-private partnerships.
Regions where we work
Take a look at our work in Eastern Europe, the Middle East and Africa.