World Refugee Day 2022
89.3 million forcibly displaced worldwide
69% originated from just 5 countries (including 2 countries where Dorcas is active; Syria and South Sudan)
83% hosted in low- and middle-income countries
(Source: Global Trends Report UNHCR end 2021)
Dorcas is active in 14 countries in Eastern Europe, Eastern Africa and the Middle East. We see the effect of the continuously growing numbers of people forced to flee. In 12 of those 14 countries we see forcibly displaced people. One of the recent examples is Ukraine.
UNHCR states that with millions of Ukrainians displaced and further displacement elsewhere in 2022, the total forced displacement now exceeds 100 million people. This means 1 in every 78 people on earth has been forced to flee – a dramatic milestone.
Lebanon experiences the effects of the ongoing conflict in Syria. Lebanon is hosting the largest number of refugees per capita, with an estimation of 1.5 million Syrian refugees plus some 13,617 refugees of other nationalities.
In South Sudan, 2 million people are internally displaced due to conflict, insecurity and the impact of climate change. The crisis in South Sudan remains the largest refugee crisis in Africa.
In Syria around 6.7 million people are internally displaced, some of whom have been displaced multiple times.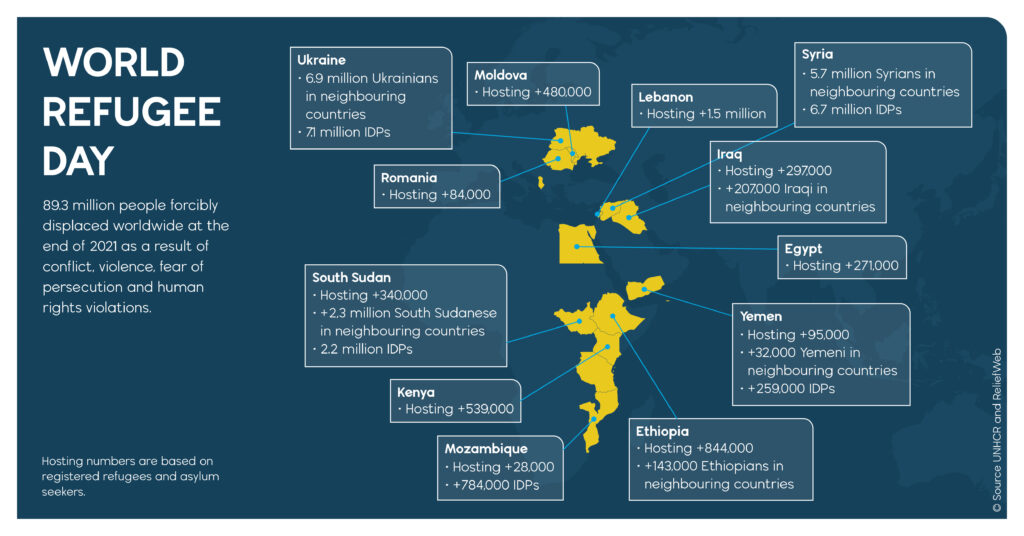 A refugee is someone who fled his or her home and country owing to "a well-founded fear of persecution because of his/her race, religion, nationality, membership in a particular social group, or political opinion", according to the United Nations 1951 Refugee Convention. Many refugees are in exile to escape the effects of natural or human-made disasters.
Asylum seekers say they are refugees and have fled their homes as refugees do, but their claim to refugee status is not yet definitively evaluated in the country to which they fled.
Internally Displaced Persons (IDPs) are people who have not crossed an international border but have moved to a different region than the one they call home within their own country.
Source UNHCR and ReliefWeb
Dorcas invests in resilient communities in which everyone can make their contribution. When a disaster or a crisis occurs, we provide assistance and we support communities to rebuild themselves. At the same time, we invest in structural remedies for poverty and social exclusion. We do this by encouraging entrepreneurship, self-reliance, and protection of people in vulnerable circumstances.
20 June 2022
Are you inspired?
Read the next story or contact us to get to know more about making an impact together.