How the COVID-19 pandemic adversely affected Roma communities
Written by: Ioana Lungoci, Ioana Ghiurau – Dorcas Romania
In December 2019, the world heard about the first "pneumonia" cases of unknown cause in China. On 7 January 2020, a novel coronavirus was identified: 2019-nCoV.
Since then, the world has changed beyond imagination. Over 6 million people have died[1] and many who contracted the virus are now suffering from the effects of long COVID. The secondary social and economic effects across the world are still hard to fully comprehend.
Healthcare workers were the frontline heroes in the battle against the COVID-19 disease. Organisations around the world responded to decrease the negative impacts of the COVID-19 pandemic on society, especially amongst vulnerable communities.
One of these communities is represented by the Roma people. Roma form the European Union's largest ethnic minority. While there is no official number for the Romani population worldwide, 10 – 12 million Roma people[2] live in Europe. Approximately 6 million of them reside inside the European Union.
These people, already scarred by extreme racism, social exclusion and poverty, saw their situation worsen under the pandemic.
According to the Second European Union Minorities and Discrimination Survey of 2018, every third Roma child lives in a household where someone went to bed hungry at least once in the previous month. Only 53% of Roma children attend early childhood education. This is typically less than half of the proportion of children their age in the overall population. Between 2011 and 2016, the number of Roma children in segregated, inadequate schooling climbed by half, from 10% to 15%, in just five years[3].
Only 30% of Roma are able to work for a living, compared to the average EU employment rate of 70% in 2015. Furthermore, 41% of Roma report they have been discriminated against in everyday situations, such as looking for work, housing, health and education over the last five years[4].
In this environment, the COVID-19 pandemic has adversely impacted the already challenging lives of Roma communities. During the pandemic, the Roma population continued to endure prejudice and unequal access to essential services. They encountered problems in five areas: housing, health, employment, education, and discrimination.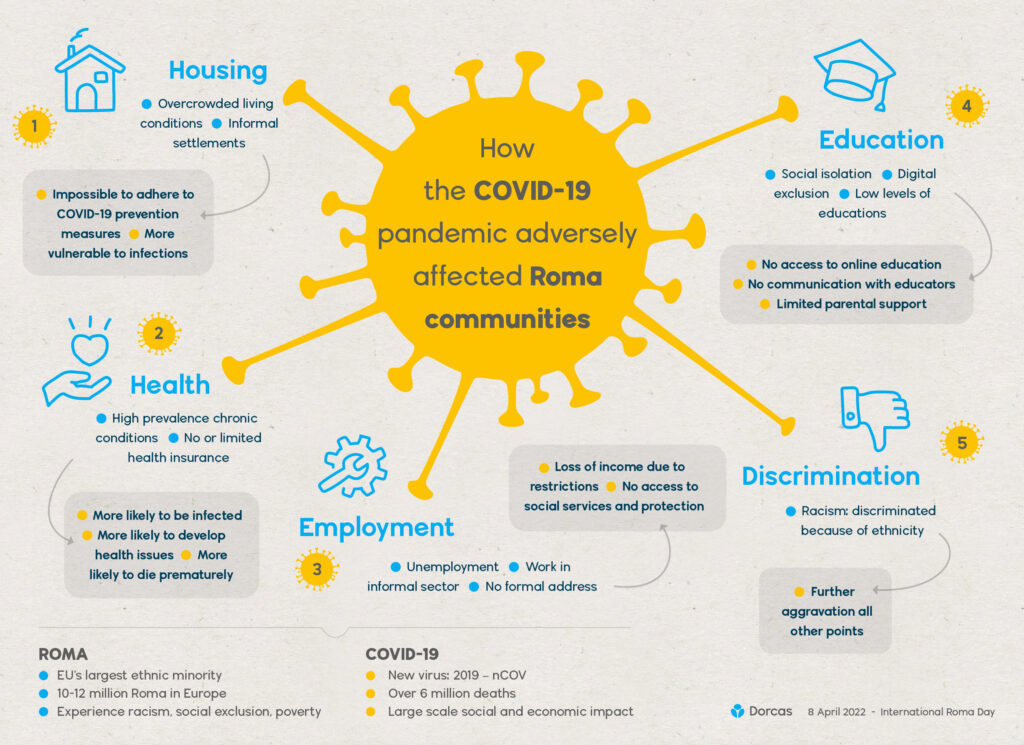 Housing
Overcrowded living conditions make it impossible for Roma to adhere to hygiene, social distancing and isolation standards in informal settlements. In the European Union, 30% of Roma do not have access to running water and up to 80% live in densely populated areas with overcrowding[5].
2. Health
Due to a high prevalence of long-term chronic conditions, Roma are more likely to not only catch the virus but also to develop health issues and die prematurely.
They face challenges in obtaining healthcare since few have health insurance and the majority reside in segregated neighbourhoods. Many of them are vulnerable to malnutrition, which was already prevalent prior to the pandemic. Their life expectancy is ten years lower on average than that of the general population in the countries where they dwell[6].
3. Employment
Unemployment and low work intensity have long been a problem for Roma, particularly among women. Many Roma lost their daily sources of income and face limited access to social services, which are sometimes made more difficult by quarantine restrictions.
Their daily or occasional job in the informal sector, such as collecting and selling waste materials, small trading, digging in landfills, scavenging for food in garbage cans or even begging, has historically been their source of income. The current situation has driven them even further into poverty. Due to their unstable employment and lack of a formal residential address, Roma were frequently denied social security benefits. Most employment assistance policies to reduce the impact of the COVID-19 crisis impact did not specifically target or include them.
4. Education
Socially isolated and digitally excluded Roma children found it difficult to participate in distance learning. They often lack access to digital media and an internet connection, so they could not follow lessons or communicate with educators. In addition, parents, who often have a low level of education themselves, could not offer educational support.
Many distance-learning programmes need a variety of resources that Roma children rarely have at home. And even if such resources were available, then studying at home in tiny houses with large families was a considerable challenge.
5. Discrimination
Roma continue to endure intolerable levels of prejudice in everyday life, whether they seek a job, are at work or in school, need healthcare, interact with administrative entities, or visit a store. In the past five years, nearly 41% of Roma felt discriminated against in at least one of these areas due to their ethnic origin. However, one-quarter of Roma (26%) say the last incident of perceived discrimination occurred in the 12 months prior to the survey[7].
Racism is common, exacerbated by the fact that many Roma individuals have returned to Eastern Europe after losing their employment due to lockdowns in Western Europe. In some communities, they were even blamed for bringing the virus home with them[8].
---
[1]https://www.economist.com/graphic-detail/coronavirus-excess-deaths-estimates
[2]https://ec.europa.eu/info/policies/justice-and-fundamental-rights/combatting-discrimination/roma-eu/roma-equality-inclusion-and-participation-eu_en
[3]https://fra.europa.eu/en/publication/2016/second-european-union-minorities-and-discrimination-survey-roma-selected-findings
[4]https://fra.europa.eu/en/publication/2016/second-european-union-minorities-and-discrimination-survey-roma-selected-findings
[5] Roma in the COVID-19 crisis: An early warning from six EU Member States – Italy | ReliefWeb
[6] https://www.eesc.europa.eu/en/news-media/presentations/roma-health
[7] https://fra.europa.eu/sites/default/files/fra_uploads/fra-2016-eu-minorities-survey-roma-selected-findings_en.pdf
[8] https://www.euractiv.com/section/coronavirus/opinion/the-roma-are-among-most-threatened-by-covid-19-in-europe/
---
08 April 2022
Are you inspired?
Read the next story or contact us to get to know more about making an impact together.