Caritas ukraine: Please Europe, stand up
'Open all the windows at -10 Celsius, shut off your heating, empty your fridge, wait a few days and you know what life is like in the buffer zone.'
Valentyn Bebik, a Caritas Ukraine aid worker displaced by the war and his colleague Hryhoriy Seleshchuk talk about life in eastern Ukraine. And about what they do, with support from Cordaid and other members of the Dutch Relief Alliance, to help 300.000 people survive and have at least some dignity.
'Because of the war I can't go back'
Valentyn is up to his ears in things he'd never imagined doing before the Russian incursion in August 2014: emergency food aid to prevent people from starving, renovating houses to keep the freezing cold out, making sure that fellow aid workers get the support to keep them from breaking down. Humanitarian work. "I have a pedagogical background. But I'm also a human rights activist who comes from Donetsk. Because of the war I can't go back there. Now I'm a humanitarian worker and travel from village to village in the buffer zone, the almost 450 km long stretch of government controlled land near the contact line and within reach of missiles. Life is full of surprises.'
'I met this 83 year old lady, working in the field, no heating at home. She took care of her mother, over a hundred years old.'
Hryhoriy Seleshchuk, Caritas Oekraïne
'When you can't help, that's the hardest thing'
Hryhoriy heads the humanitarian department of Caritas Ukraine. He was based in Lviv, but moved to the capital Kiev to be nearer to the people he and his team of 500 humanitarian aid workers reach out to. In a country with 1.6 million IDPs and 3.8 million people in need of assistance, the challenges are simply overwhelming. "The hardest thing is when you have to decide whom you can't help, because of the lack of means and staff.'
How does the war affect people?
Hryhoriy: 'In the buffer zone, still home to 600.000 people, industry – largely coal industry -has collapsed. The economy, also in the part of the Donbass area now under Russian control, is at a standstill. People have almost no income.
Ukraine was still recovering from the Soviet dictatorship and this war has thrown us back again. Most of those who have the means and the energy to leave go west, some go east. 75% of the people in the buffer zone are older than 60, often too old to move. They live in derelict Soviet buildings, where central heating and cooking gas has been shut off because the few elderly customers are not profitable for the gas companies. Gas pipelines – many of them above ground – were destroyed, leaving complete communities no option but to burn whatever they find to heat themselves in wintertime. You see these huge residential blocks, hundreds of depressingly bleak, empty and cold apartments, here and there wood stove pipes sticking out. Pensions do not allow people to survive let alone to repair broken windows. So they live off the vegetables and potatoes they grow in fields outside the village.
I met this 83 year old lady, working hard in the field, no heating at home, surviving. On her own? No, she took care of her mother, over a hundred years old. For me she epitomizes this war, and the sorry state of this part of Europe. Or take this family with young kids, one of the few. Their 1,5 year old baby girl, only just able to walk, was killed by a mine. Mum and dad sent their two older kids to their grandmother, hoping it was safer 15 km further away from the front line. Which is an illusion.'
Valentyn: 'Over 1.5 million people fled from the non-government controlled Donbass area. They seek refuge in the Ukraine, among family and friends, in hotels, schools, whatever place they are welcomed. But it's a huge burden for a country. And they are severely discriminated against. They can't settle because they are not allowed state benefits, have no access to the labor market, to housing, to financial services. A population within a population living in limbo, with no perspective whatsoever, having lost whatever it was they had.'
What is the situation inside the non-government controlled areas?
Valentyn: '2 million people still live there. Many of them cross the check points into the government-controlled area, just to get humanitarian assistance, but also to get their pensions, prolong the validity of documents, bank cards or pension and other everyday life things that aren't possible in Donetsk and Luhansk. Then they go back to their apartments, hoping they won't get hit by missiles or step on a mine.'
'After the conflict started many colleagues form caritas donetsk were in danger and had to be evacuated.'
Valentyn Bebik
Hryhoriy: 'Over the past years Caritas Ukraine has tried in vain to get permission to provide humanitarian assistance inside the non-government controlled areas. We have succeeded in delivering 2000 food packages over a year ago, but only because former Caritas Donetsk colleagues crossed the front line and went back to distribute the food. But Caritas Ukraine is not on the ground in the Donbass, as long as we do not have an official permission and some kind of security clearance form the local authorities. The risks are too high.'
Valentyn: 'In fact after the conflict started many colleagues form Caritas Donetsk were in danger and had to be evacuated. Some of them stayed, they still do humanitarian work, but not as Caritas. They pay a big price. One of them was kidnapped, tortured and, luckily, released.'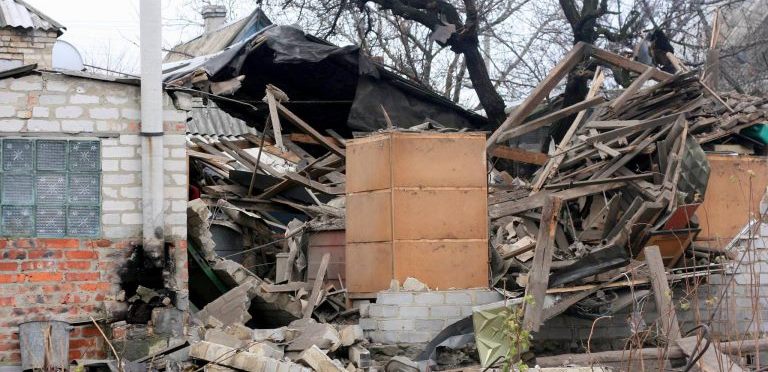 Is the shelling still going on daily?
Hryhoriy: 'It's less intense than it was. But is hasn't stopped. It's a source of terror and at the same time a part of daily life. I met an old man the other day, he told me he had got used to it. In fact it was the silence in between explosions that scared him most. Hearing the explosions he knew where to run to for safety. But not hearing anything, he was lost.'
How are you assisting people?
Hryhoriy: 'In several ways. By bringing monthly food rations to those who can't afford it, especially in the buffer zone. It helps a great deal but it won't cover all the nutritious needs. Many people still need to work the fields to still their hunger – which by the way is a risk in itself. You can get hit by missiles or step on mines while gardening. It happens.
We provide cash and building materials for people to renovate their damaged homes – especially windows and roofs. We cannot help rebuild completely destroyed homes, but we do provide cash grants, food and medicines to homeless families who fled to safer cities. But to survive people need more than this. They need hope, they need to be listened to. That's why we provide psycho-social support and legal advice as well. A lot of this work has been royally supported by the Dutch Relief Alliance and the Dutch government.'
'To survive people need more than this. They need hope.'
Hrihoriy Seleshchuk, Caritas Oekraïne
What else are you expecting from Europe?
Hryhoriy: 'The support we get for our work is very important, and we are grateful for it. But bear in mind that we Ukrainians use all our resources to respond to this crisis. And in doing that we feel abandoned by Europe. Europeans have become so used to peace and freedom that they are forgetting that peace is something their parents and grandparents fought and died for. Three years ago , like other Europeans, we thought that war was impossible in the Ukraine, as it is a part of Europe. But like other Europeans, we were mistaken. The invasion of Ukraine is also the invasion of Europe. This war is taking place inside Europe and Europe should stand up. But it doesn't.
Euroscepticism and growing nationalism is the reason why this war can continue. More than ever people in Europe should stop thinking not only as a Dutchman or Frenchman, as a Pole or an Italian and start acting as Europeans. There's a place in Europe where 1.6 million people are displaced and 3.8 million need basic assistance because of a brutal invasion. Please Europe, stand up.'
Ukraine at a glance
1.6 million people displaced by the conflict
3.8 million people in need of humanitarian assistance
70% elderly, women and children
In 2016 the Dutch Relief Alliance helped Caritas Ukraine to
Provide food security to 1500 families
Give medical material and medicines for 1200 families
Distribute fuel for heating for 300 families
Give psychosocial counseling to 1400 individuals
Give financial support to 250 families
In 2017 the Dutch Relief alliance continues to support the people of Ukraine. Dorcas together with Cordaid, Terre des Hommes and Save the Children are delivering aid together in a Joint Response for the Ukraine. Dorcas is leading this humanitarian response, funded by the Dutch Government.
Source: Cordaid – Frank van Lierde 
20 February 2017
Are you inspired?
Read the next story or contact us to get to know more about making an impact together.