Update: Relief in Ukraine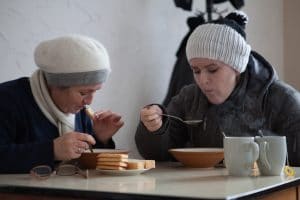 The situation in East Ukraine continues unstable. There are more than 1.1 million displaced people and refugees. Dorcas investigated the conditions extensively by interviewing refugees, local partners, governments and representatives of the United Nations.
No food or shelter
Because of the huge number of refugees, local governments are unable to provide resources. Subsequently, many people have no food and no place to live. Women and children have fled without their husbands and fathers.The men stayed behind to protect homes and possessions, but the women refugees often cannot find work. Vulnerable people, the elderly and the ill, had to stay in the conflict zone because they are not fit to flee.
Relief programme
Dorcas developed a new relief programme, based on the outcome of the study,  for people in the conflict areas in and around Donetsk and Luhansk, for the IDPs at the Charkov train station and in Zaporozhye. Dorcas partners with local agencies with access to these areas and will provide 600 families with food, toiletries, medical supplies, clothing and other necessities. Refugee centers will be improved where needed, so that refugees here will have access to toilets and showers.
Cash for basic needs
Dorcas started a 'cash programme' in the areas where most of the refugees have relocated. Some 375 families will receive a small sum of money for their basic needs until they receive government support or find a job. Dorcas' focuses on 'forgotten' families; people in smaller villages are especially vulnerable as little help is available here.
13 April 2015