Peace and reconciliation training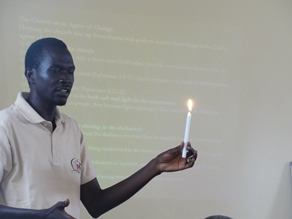 Dorcas facilitated a Peace and Reconciliation training for church leaders, local leaders, chiefs and anyone was was interested. The training took place from 20 to 25 July and was facilitated by Dorcas staff member Thomas Anei Deng. One day, Thomas spoke about the role of the church as the light of the nation. 'The church is supposed to be the light, but sometimes the church is there without being the light'. Participants contributed actively in the discussions, including listing of prejudices towards different states. The training is especially relevant in the light of the developments in the country since December 2013.
The story of Regina
Regina has been living in Wau since 1998. That year, many people died during the fighting and many fled. Some went to Khartoum and some went to other neighbouring countries. Only a few people remained in the residential areas of Wau. Regina stayed behind, together with her children. 'There was a shortage of food and the men who didn't flee were killed during the night. One night when the fighting broke out again, I fled to a safer place but later I wanted to return. During all the hardship I went through, God was able to protect me. The Peace and reconciliation training spoke about the word of God. It touches my heart that it was God who protected me by that time. When your heart is open to God, He is near to help you. During the workshop I learnt how peace can be brought, how to solve problems and contribute to conflict resolution.'
01 August 2014
Are you inspired?
Read the next story or contact us to get to know more about making an impact together.