How do we overcome barriers in an increasingly divided world?
Today is the 16th World Day of Social Justice. This year's theme is: Overcoming Barriers and Unleashing Opportunities for Social Justice. Strengthening socials justice is a vital part of the United Nations agenda, while simultaneously the world seems more fractured than ever due to the many crises that we have faced over the last decade. Social justice deserves more attention in the coming years to achieve more equal, thriving and inclusive societies.
Dorcas is committed to combat major inequality and promote social inclusion in the countries we work. As an organisation, we address exclusion by empowering groups that have been structurally marginalised, such as older people, people with disabilities and minority groups. These groups are our key priority, as we recognise that when socials justice for marginalised people and groups is attained, it improves the overall well-being of societies.
Dorcas invests in sustainable change on three levels: individual, community, society. On individual level, we create opportunities for people to develop themselves further, and if necessary, we provide for their basic needs. On community level, we invest in resilient, self-organising communities that work together to solve their problems. At society level, we contribute to a just society in which everyone can participate. Change on these three levels is also important in striving for social justice.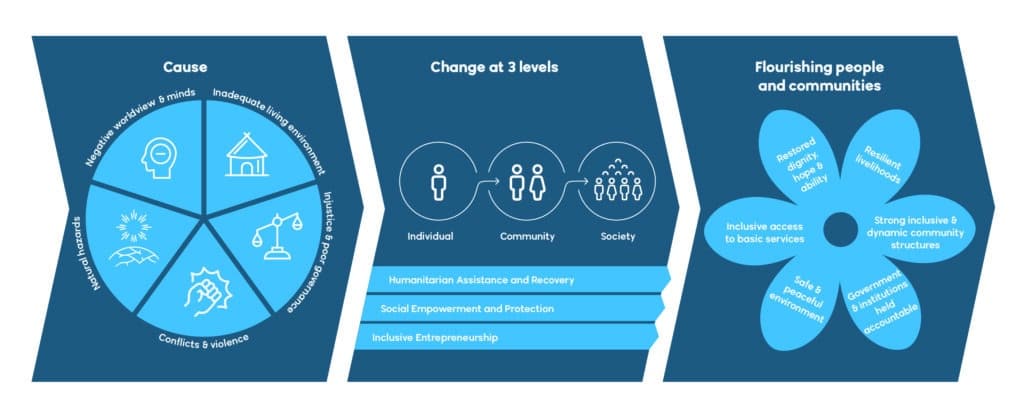 How we facilitate social justice in countries such as Albania, Lebanon and Ethiopia:
On an individual level, we directly empower people by:
Supplying in basic needs such as food packages, hygiene products and lifesaving assistance.
Offering protection such as psychological support, child protection and support to those facing gender-based violence.
Organising vocational trainings and information sessions on government services.
Providing legal support and cash-assistance.
These services empower individuals to be thriving members of society and overcome barriers that lead to exclusion.
On community level, we empower communities by:
Raising awareness on human and social rights and advocating for the rights of the most vulnerable.
Supporting care and protection of vulnerable people through safety nets.
Training in community mobilisation and leadership.
Stimulating the exchange of experience with community representatives.
Establishing self-help groups and business groups.
Promoting the protection of vulnerable community members through different approaches, such as awareness raising related to GBV and child rights, capacity building and knowledge on rights.
Strengthening community leaders and capacitating them to engage in promoting human rights is essential in overcoming exclusion and promoting social justice.
On society level, we influence policies and create impact by:
Continuously collaborating with actors, stakeholders and municipalities to coordinate and complement approaches and services to advocate for change.
Providing knowledge, information and capacity building.
Advocating with local government for additional services for marginalised people.
Offering technical assistance to develop local policy documents.
Facilitating multi-stakeholder meetings.
Engaging in advocacy initiatives to reduce rights violations and shed lights on the important role of local partners in humanitarian response.
To continue to improve social justice, Dorcas works towards sustainable development and has clear points of action for the coming years. We will work closely with government institutions to support them in the development of programmes that promote social equity and advocate for more funds on social cohesion. We keep raising awareness on human rights and the importance of the inclusion of marginalised groups to improve social justice. Also, we prioritise activities that strengthen capacity building of local leaders and mobilise communities. We plan to achieve this through establishing formal and informal networks of service providers and stakeholders.
Strengthening social justice in an increasingly divided world struck by multiple crises requires an approach on these three levels. It is not only the world's economies that are increasingly linked and interdependent; structures within a society are also interconnected.
On individual, community and society level, the capacity building of marginalised people groups needs to increase. Only when everyone has a voice and is included, will we see a thriving world.
20 February 2023
Are you inspired?
Read the next story or contact us to get to know more about making an impact together.