Flourishing in community  
Last July, Jochem Duinhof, political advisor at Dorcas, visited the Dorcas offices and community safety nets programmes in Moldova and Romania. Jochem elaborates on the challenges older people face in Moldova and Romania and how the support of the community equips them to overcome these challenges and build meaningful relationships.
Community safety nets
In situations where people are marginalised, safety nets are needed to support them. In a community safety net, the community plays a prominent role in making sure people have access to the support structures they require. Community safety nets are formed by multiple community actors, such as churches or volunteer organisations, and complement the social protection that is provided by the government. The community safety nets programmes of Dorcas Moldova and Romania focus on supporting older people, as they are often marginalised and excluded. A community safety nets programme for older people respond to the different needs they have, such as: a cooking club for fellowship, a social club to decrease isolation or groups that undertake income-generating activities together.
Jochem: Older people in Moldova and Romania face some major challenges. Since the start of the conflict in Ukraine, the gas prices have risen tremendously. They already had to make tough financial choices in the winter and now the situation has become even more dire. They often don't have enough money at the end of the month to buy food and medicine. One of the ways they cope, is by buying preservable goods in the summer when they are cheaper. When winter comes, they chop their own wood or only heat one room in the house to safe costs. Older people also often face loneliness and isolation. Their children move away to work in the cities or abroad and it is more common that they send money back to support their children, not their parents.'
Jochem continues 'What stood out to me when I visited the community safety nets programmes is what a big impact the role of the community has in the lives of older people. Their need to feel they are valued and belong is just as important as their financial needs. I spoke with several women in Moldova, who mentioned that the community helped them out of loneliness. They form friendships, visit each other outside of the organised meetings and help one another in whatever way they can. Doras contributes to a community environment in which all people, even the most marginalised, are seen and get opportunities to participate. Community structures become stronger as community members get more empowered. This is a big part of the work of Dorcas.'
Dorcas also supports older people through the community safety nets programmes by supplying food parcels every two months. Furthermore, Dorcus supplies seeds and materials for the cultivation of crops. The older people tend to a vegetable garden together and this supplies them with fresh produce to share among the community. There are also groups that make crafts together, which they sell. These activities increase their income, give them a great sense of achievement and it offers the opportunity to overcome some of the challenges they face together.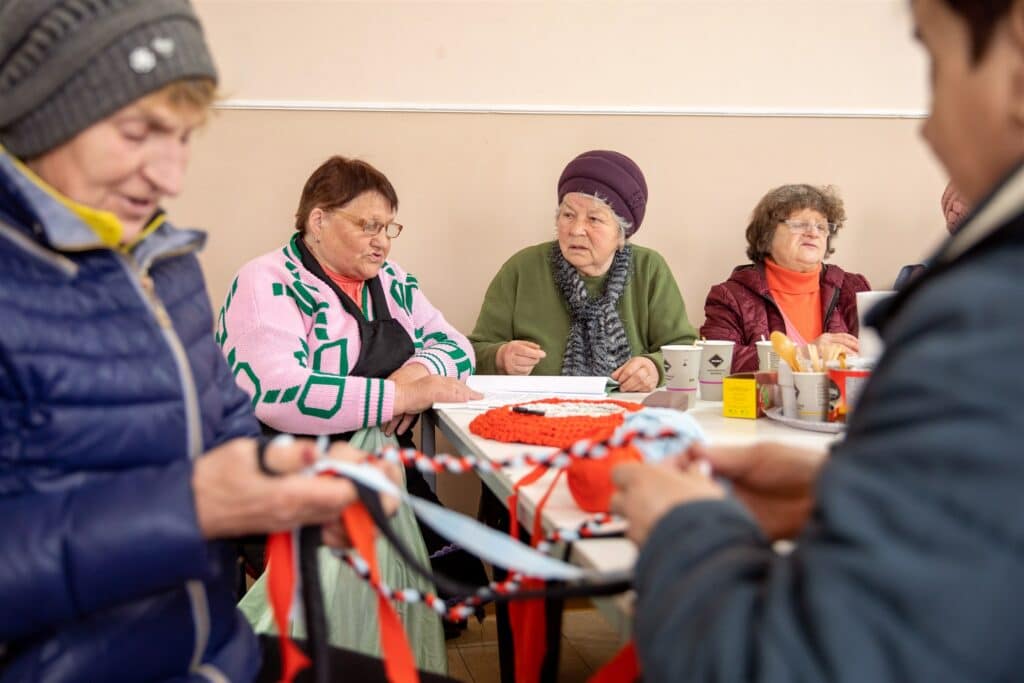 About Dorcas' community safety nets
Community safety nets are part of our long-term objective to have an increased number of vulnerable people receive support through a community safety net. We aim to achieve inclusive social development of vulnerable people within empowered communities. The prime focus is mobilising and organising communities to take ownership of problems and work on opportunities in an asset-based way. Dorcas has community safety nets programmes in Albania, Egypt, Ethiopia, Moldova, Romania, Tanzania, and Ukraine.
25 September 2023
Are you inspired?
Read the next story or contact us to get to know more about making an impact together.