What we will do after the Humanitarian Summit
On May 23 and 24, the World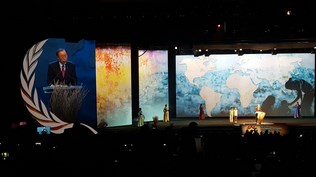 Humanitarian Summit took place in Istanbul. The summit was initiated by UN secretary general Ban Ki-moon to improve relief aid for a rapidly increasing number of conflict and disaster victims. The summit was the first of its kind, bringing together states, UN organisations, the Red Cross, NGO's, the private sector and the scientific community.
Ban Ki-moon intended to prioritise topics such as preventing and ending conflicts, as well as honouring international agreements. Unfortunately, the participants of the summit did not go beyond sharing good intentions and promises to make technical or financial agreements.
The summit has been a starting point for many initiatives, not a final destination. Dutch organisations that were present have decided to take on the following points of action:
Firstly, we will mobilise the Dutch people to support and honour humanitarian war rights and refugee agreements. States should be pressured to end bombings of hospitals, taking over cities, and capturing refugees or sending them back. Humanitarian aid is all about protection of people.
Secondly, we will support southern organisations in reaching their goals so they can start to play a larger role within the humanitarian ecosystem. Our motto during the summit was: 'as local as possible, as international as necessary'. This is something we must develop by introducing new financing and international support models.
Thirdly, we will take part in a large number of initiatives that were proposed during the summit. These are initiatives to prevent and minimise risk during (natural) disasters; a 'grand bargain' to increase financing of aid substantially and make finances more accessible to local organisations that are more transparent and less bureaucratic; the 'One Billion Coalition for Resilience' that is meant to increase resilience of people in times of disaster; a coalition for innovation; an alliance of inclusion of people with disabilities; an alliance of better aid during crises in urban areas; initiatives for improving the position of women and girls in crisis areas; and the initiatives about using cash in humanitarian response.
On top of this, we want to maintain the connection with the Dutch government, stay involved with the promises that have been made. We want to be able to advise the government about the implementation of these promises.
Lastly, we emphasise the importance of humanitarian principles when providing humanitarian aid during armed conflicts and natural disasters. We will strive to live out these principles actively and also keep other actors – such as states – accountable to them.
31 May 2016
Are you inspired?
Read the next story or contact us to get to know more about making an impact together.