Dorcas' response to Syria earthquake
Earthquakes and severe aftershocks are causing great devastation in Syria and Turkey. This humanitarian disaster calls for immediate action and support. Support our humanitarian assistance for those in need in Syria.
New earthquake and severe aftershocks in already devastated area
Syria and Turkey where overwhelmed by another heavy earthquake with a magnitude of 6.4 and a severe aftershock of 5.8. A new crisis in an already severely hit area.
Dorcas is thankful that all staff member on the ground are safe and well. They immediately started responding to this new crisis which results in a strong presence in the field. Dorcas continues to provide support on food security by providing ready-to-eat (hot) meals, but also non-food items like blankets and jackets, underwear and socks . Next to mental health and psychosocial support, psychosocial first aid is provided. In Aleppo, a lot of people live in fear and insecurity. In psychosocial support special attention is giving to children, which Dorcas sees that all events in the past two weeks have enormous impact on them.
Dorcas provides psychosocial support in Syria
Dorcas distributes food, provides health support in a mobile clinic and offers psychosocial support to those affected by the earthquake. Dorcas' humanitarian assistance coordinator Mirian Wester explains this protection approach that psychosocial support is part of.
'Surviving an earthquake is incredibly intense', explains Mirian. 'It can cause a lot of stress and feelings of insecurity, which can ultimately cause a range of other complaints. Many people have been pulled out from under the rubble, and everyone has lost family and/or friends. On top of that, many people lost their homes, possessions and income in one fell swoop. That obviously has a huge impact on their lives.'
Providing food parcels and ready-to-eat meals
Dorcas operates in Northwestern Syria, around the cities of Aleppo and Homs. These regions have been struggling with food insecurity for years. This new disaster only exacerbates that problem. Many people in this area have become homeless, as their homes have collapsed or are unsafe. They are staying in shelters, where there is a great need for ready-to-eat meals. There is also a high demand for food parcels from people who can still stay in their houses.
Together with local partner Monastery St James the Mutilated (MSJM) and Mary's Meals, Dorcas provides hot meals to 2,000 households, daily lunches to 5,000 people and food parcels to 1,000 households for two months.
Dorcas deploys mobile clinic for emergency humanitarian assistance in Syria
In the Idlib Governorate, south of the hard-hit city of Aleppo, Dorcas is providing medical assistance to people injured by the earthquakes. This support is possible thanks to the mobile clinic we have used in Syria for many years.
Dorcas' mobile clinic comes from the Dutch company Hospitainer. They convert sea containers and tents into mobile clinics complete with medical equipment. With its mobile clinics, Hospitainer has supported more than 1.6 million people in 33 countries.
Our current mobile clinic in Syria was built in a shipping container mounted on a truck. The converted container was delivered to Dorcas in 2021 as a women's clinic, where pregnant women can receive counselling and give birth, and victims of sexual abuse can be treated.
'But', says Sanne van Heusden of Hospitainer, 'regardless of their specific use, all our mobile clinics can be deployed to provide first aid in conflict or crisis situations.' The container comes with medical equipment and accessories, such as gloves, medicines and scissors. The mobile clinics are plug-and-play; in other words, they can be used immediately after arrival.
Hospitainer offers several standard models but stresses that everything can be adapted to the needs of the organisation and country where the mobile clinic will be used. 'Organisations have different goals, of course. And we also have to take other factors into account. For example, certain medicines cannot be used in every country, and we need to ensure the truck's wheelbase is suitable for the terrain where the clinic will be used.' Sanne is really pleased that Dorcas is now using their mobile clinic in Syria. 'That is exactly the goal we had in mind: to help people who need it most.'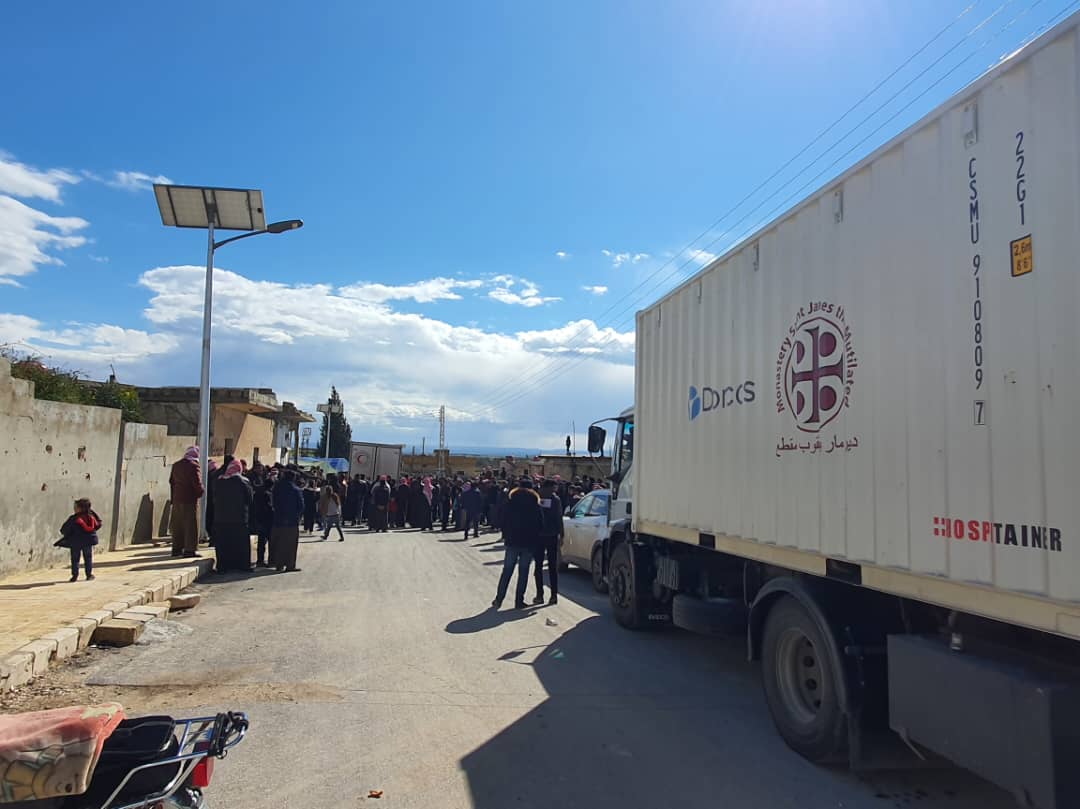 Acute response via Dutch Relief Alliance
The Dutch Relief Alliance has initiated an acute response to the severe crisis in Syria due to the earthquakes of February 6th. This acute crisis response is funded by the Dutch Ministry of Foreign Affairs. The project is implemented by Dorcas, Oxfam, Terre des Hommes, Save the Children, World Vision and ZOA in Aleppo, Lattakia and Idlib governorates. The implementation period is February 11nd to August 10th. This project is focusing on food security and livelihoods, WASH, health, shelter, multi-purpose cash and protection. Total number of individuals targeted for all sectors is 99.266 individials. Within this response, Dorcas will focus on food security and protection (a.o. MHPSS).
12 February 2023
Challenging situation in providing shelter and humanitarian assistance
The Dorcas team in Syria is continuously assessing the situation in order to provide what is needed for those affected. A rapid needs assessment is currently conducted in several damaged neighbourhoods in Aleppo. When walking through these areas, the situation becomes clearer. Incredible damage and destruction is seen and people are actively seeking for assistance. There is a shortage of shelter facilities, so people are opening centres, schools etc to protect their families. Not always being able to facilitate food, heating and hygiene. Organisation providing humanitarian assistance are not always informed on the locations of these unofficial shelters. This makes it challenging to reach people with basic needs, food, winterisation items, medication and WASH. Another challenge is the availability of fuel. Without fuel, there is no heating.
Dorcas continues and plans to expands the food security and livelihoods (FSL), non-food items and protection activities. Around 5.500 lunch meals are being distributed in shelters, also hot meals are being prepared and distributed. The mobile clinic is providing support injured people, rescue workers and humaniatarian workers in Hama Governorate.
9 February 2023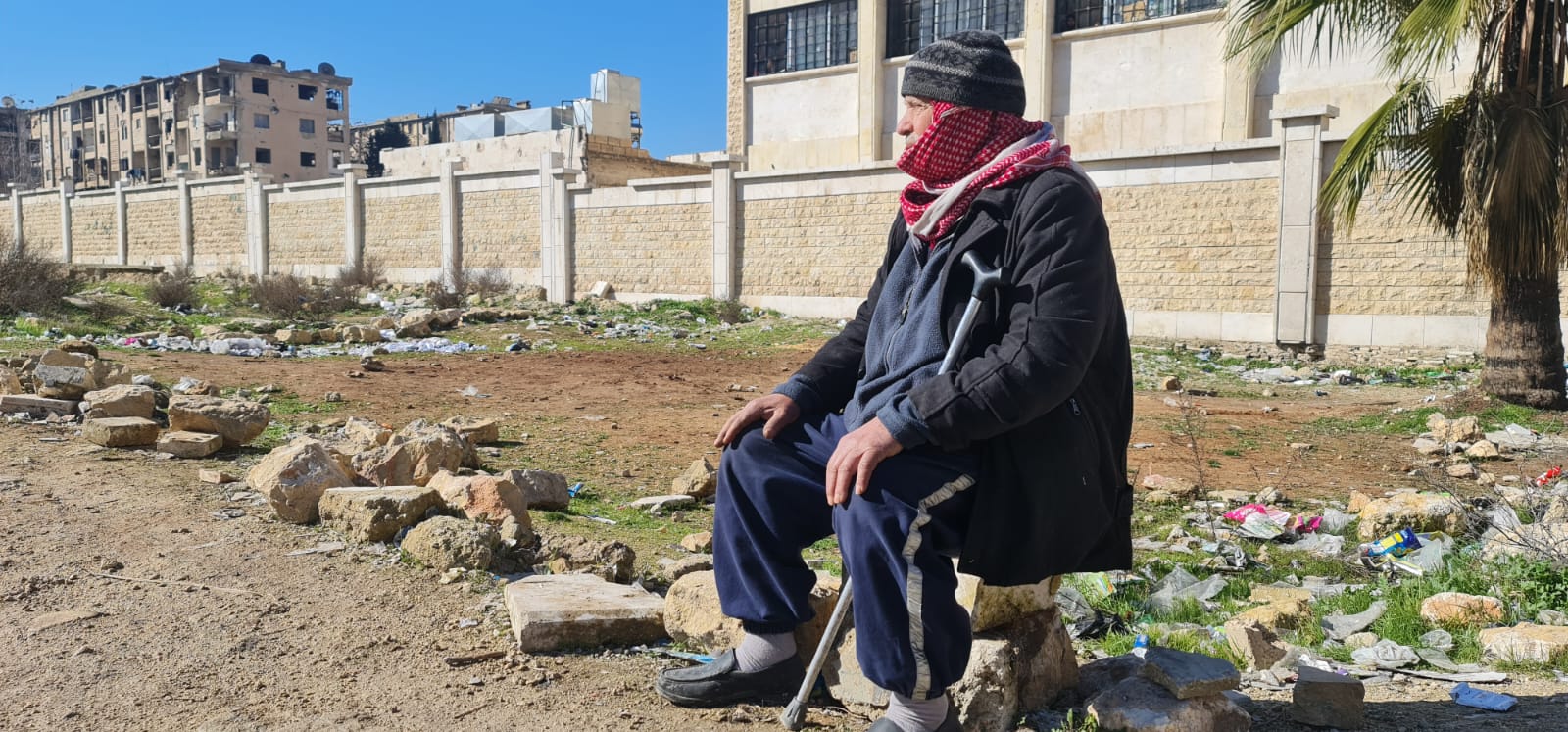 Fadi Dabbagh - Coordinator at Dorcas Syria
'The earthquake only lasted around 40 seconds, but it felt like 20 minutes. For 13 years, we have been in crisis after crisis. But what we witnessed with the earthquakes and aftershocks was devastating: the sound of building collapsing, people screaming, my own parents and sister screaming.
After the earthquake, we went to a shelter in a church. I told my parents to stay there until the situation calmed down. And I started my humanitarian work with my Dorcas-colleagues. We started planning on how we can assist those in need. People were in streets, in churches, in mosques. Most of them injured. It is devastating for me that my parents where one of the many who are suffering.
In the meantime, buildings are still collapsing, light earthquakes are felt and churches and shelter are filled with people. People are still in unsafe building and being asked to evacuate immediately. The situation worsens, but we stay strong. For ourselves, our families and for those in need.'
Biggest disaster in Syria is yet to come
In Syria, the earthquake caused widespread destruction in infrastructure and civilian buildings in Aleppo, Hama, Idleb, and Lattakia governorates. The impact of this earthquake is enormous. Many buildings in the region who have already suffered damage from the ongoing civil war are now destroyed.
When time passes by, we get more insight on the impact and fear that the biggest disaster is yet to come. After assessments we see:
Many buildings have collapsed and people are still expected to be under the rubble. Many buildings are unsafe and the risk of collapse is high. In Aleppo, areas are closed due to safety reasons and providing humanitarian assistance is challenging.
People stay on the streets, in cars, shelters, sports stadiums, mosques and churches. But there are also people who, despite the unsafe state of their homes, do not dare to leave.
Another disaster is unfolding whilst people have lost everything and many of them do not have the means to provide in basic needs.
The availability of essential products is limited. Shelters cannot always offer warm clothes, food and water. Given the temperatures, especially at night, it is urgent that people have access to a safe and warm place to stay.
Syria is in a fuel-crisis and fuel is not always available or affordable. An immediate emergency demand for petrol is requested to support rescue workers and humanitarian organisations.
Mental health and psychosocial support is essential when dealing with crisis. The continuous aftershocks are causing widespread fear and anxiety among children, older people, women and young people.
Dorcas has been active in Syria for many years. This allowed our staff on the ground to take immediate action. Dorcas is providing support on food security and livelihoods (FSL), non-food items and protection via:
Delivering food parcels and ready-to-eat meals.
Supplying blankets and warm clothing.
Providing health and mental health services and medicine through a mobile unit in Hama and Idleb. Its servicing in hard-to-reach areas.
Offering mental health and psychosicial support. Our Psychological First Aid programme is designed to provide emotional support and support individuals cope with their negative experience.
8 February 2023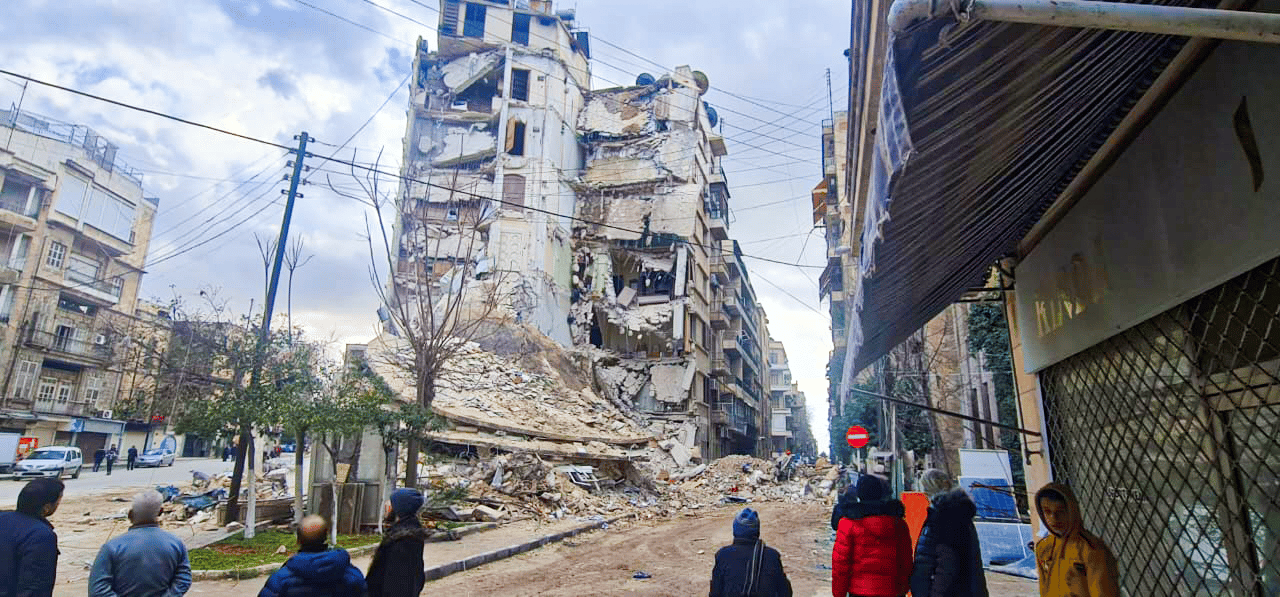 Dorcas operations in Syria
Earthquakes and severe aftershocks are causing great devastation in Syria and Turkey. Dorcas has been active in Syria for many years and is directly experiencing the consequences of this disaster itself. The office in Aleppo was heavily damaged. But country office staff took immediate action, offering support to victims based on what is needed. Blankets, warm clothes and food are currently being distributed.
Due to the Beirut blast, Dorcas has experience in quickly responding to a disaster of this magnitude. The situation and needs of the people who have been affected are continuously assessed. Slowly the situation is becoming clearer, but it remains to be seen whether there will be new earthquakes and how severe they will be. We see older people are unable to leave their homes and when they do, they have nowhere to go. People are afraid to stay indoors, but the current weather conditions make this challenging. Besides distributing clothes, blankets and food, Dorcas also provides first aid to the victims through a mobile clinic. Furthermore, Dorcas is looking into providing cash-money assistance and psychosocial care.
6 February 2023
Najla Chahda  - Country Director Dorcas Syria
'Our office in Aleppo is damaged and we cannot work there at the moment. It is unsafe. Luckily, we can operate from one of our partners office and continue to provide support to those in need. Our community centre, where many of our programmes are given, is unharmed. For us, it is not a question of taking action. It is in our hearts to support people and that is what we are doing now. We have to do this.'